Ballycannon Young Chef of the Year 2014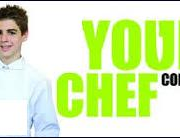 THE BALLYCANNON FOOD & GARDEN FESTIVAL
COOKERY COMPETITION
SATURDAY 28TH JUNE, 2014
Competition Name: Ballycannon Young Chef of the Year 2014
Competition Criteria: This competition is open to all 12 – 17 year olds.
Competition Brief:
To create a main course dish of your choice using at least 70% local food. Your recipe must also give a description of the dish and, if you wish, a story about the recipe (max. 150 words). You may, if you wish, include a picture of the dish with your submission. You must also name the supplier or producer of your local produce.
Please give consideration to the dish being a balanced meal.
Please submit recipe for 2 portions.
Should your application be successful, you will be invited to take part in a live cook-off at The Ballycannon Food & Garden Festival in Croagh, Co. Limerick on Saturday, June 28th.
Recipe cooking time should be limited to 30 minutes as only 30 minutes will be allocated for the cooking of the dish live on stage with RTE Celebrity Chef, Brian McDermott.
Stage One
Submit your application, based on the above brief usual the official application form, to us by Wednesday 11th June 2014. Applications can be sent to D&M Garden Centre, Ballycannon, Croagh, Co. Limerick or by email to [email protected]
Stage Two
Applications will be reviewed by high profile experienced chefs who will each score the application using the following format:
Marking criteria will be out of 10 and we are looking for:
Best use of local ingredients;
Description/story of dish;
Consideration of balanced meal; and
Innovation of recipe.
Four recipes and individuals will be chosen to cook their dish live on Saturday 28th of June at 10 am in the festival demonstration area and compete for the title of "Ballycannon Young Chef of the Year 2014".
Stage Three
Live cooking of your dish on stage. Judges will be looking for the best execution of a dish based on your written submission.
The judges' decision is final.
Prize
The overall winner will receive the title of Ballycannon Young Chef of the Year 2014 and will get to spend a weekend cooking with RTE Chef Brian McDermott in Inishowen, Co. Donegal.
All competitors' details and recipes will be forwarded to the Chef Judges for shortlisting.
For further information contact Dermot or Mags on 087 6811637 or 069 64084.
Date: