AJUGA reptans Chocolate Chip
AJUGA reptans Chocolate Chip
Please enter your email address below to be notified when the item is back in stock.
FREE delivery on orders over €100
Support Local Businesses
Dispatched within 1-4 working days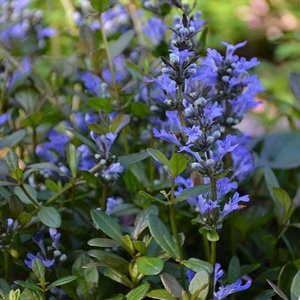 AJUGA reptans Chocolate Chip
Specifications
Latin name

AJUGA reptans Chocolate Chip

Weight (kg)

3kg

Colour

Blue

Flowering time

April - June

Mature height

0.2M HT X 0.6M Sp

Pot Size

1 Litre
Decription
Ajuga reptans 'Chocolate Chip' is a ground-hugging plant prized for its blue-purple flower spikes on display in mid to late spring. The blossoms rise slightly above the foilage of tiny, glossy, oval leaves which are chocolate with burgundy highlights.
Delivery Information
| | |
| --- | --- |
| Standard Delivery per parcel* | €6.95 |
| * parcels up to 30kg or within dimensions volume | |
| * free delivery over €250 on standard items (excludes large/bulky items) | |
| * multiple purchases qualify for combined delivery | |
| For large items please ring us on 069-64084 to discuss delivery. | |
| | |

We currently only deliver within the island of Ireland, other countries can be quoted for by contacting [email protected] or via telephone on 06964084

Standard Delivery is FREE on orders over €250*
---
All standard deliveries will be completed within 5-7 working days via Fastway Couriers, any delay to this delivery time, the customer will be notified by One of our staff.
The in-Store delivery charge will vary compared with online, in-store delivery charge is done on a case by case basis.
* Only mainland Ireland addresses qualify for free delivery.

Live Plants Delivery
---
Our live plants are packed with care and diligence by our staff, our horticulturists review each plant before despatch to ensure quality is maintained.
Live Plant delivery charges are not calculated on weight but on the space required per package to ensure safe delivery, so delivery charges may vary as some plants require more space than others when packed.
All live plants are despatched within 3-5 working days where possible, our couriers aim to deliver within 48 hours of despatch from our Garden Centre to allow the plant to arrive in healthy condition.

Click & Collect
---
Can't wait for delivery? Why not try our FREE Click & Collect service? Simply make your purchase online and collect it from our store located in Croagh Co. Limerick. Our staff will contact you by phone when your order is ready for collection (Please allow 24 hours minimum). When collecting your item, call the store on 069-64084. We will then load into your car as required. This service is available in-store 9am – 6pm Monday – Saturday (No collections on Sundays)
Click here for more information about our shipping conditions.
Payment Information
You can pay your online order either by credit card or via Paypal.
If you have any further questions about the online order payment please contact us via ­069 640 84 or mail.
Are you looking for the product "AJUGA reptans Chocolate Chip"? We offer this product in our garden centre in Ballycannon, Croagh. You can order the product "AJUGA reptans Chocolate Chip" online or you can visit our garden centre in Ballycannon, Croagh for more information about the product "AJUGA reptans Chocolate Chip". We look forward to seeing you soon!